I have been struggling to decide what my blog entry for this week should be. I have had so many thoughts flying around and could not find one that would settle long enough for a coherent string of words. As I pondered, I consulted with Facebook
®
(yup, distraction ala motivation and research) and realized that like many of us, I have been sleeping on the news of the girls that were abducted in Nigeria.
I remember reading the news when it broke a few weeks ago, but did not keep up with it. In case you missed it, here's the synopsis:
In the middle of the night on April 14, 2014, over 200 young girls between the ages of 16 and 18 attending boarding school in the town of Chibok in North-Eastern Nigeria were abducted and their school buildings torched. Some of the girls were able to escape the attack. The details of the attack and what happened after are very fuzzy. It was initially reported that some of the girls were released, but as of now it sounds like at least 230 girls were taken. It is unclear which group has taken the girls though the proximity to local insurgent groups and the magnitude of the abduction have narrowed down the possibilities. The government is reported to be negotiating for the release of the girls, but would not provide details. There have been some reports that the young girls have been married off to insurgents, an act not unusual in these circumstances. It has been over 2 weeks so far and frustrated and scared parents do not have many choices or resources to which they can turn. A march was recently organized to the capital of Nigeria to demand more action from the government. There is a call for awareness through social media using "#BringBackOurGirls" and "#WhereAreOurGirls".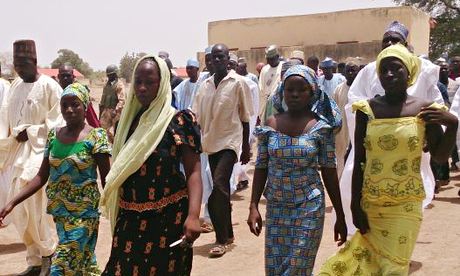 Four of the students that escaped
And exhale! I am so heartbroken reading this news. It is so easy to get lost in my world and forget the daily tragedies happening elsewhere. The reality is that the problems in the world are endless, but it is very disheartening that some people's stories are over covered while other equally crucial stories are barely mentioned.
The young women who have barely started their lives have been afforded an opportunity at education which is no small feat, especially in their region where there is a war on education. Many families risk their lives and sacrifice all they have in pursuit of an education to better their lives and provide their progeny a chance at more than they had. In this region and in many parts of the world, education, even in its basic level is a privilege and sometimes a risk factor for early death. Yet still many of these families, knowing the benefit, keep pushing and fighting for their young boys and girls to have a chance at a new future.
It is very humbling to think about my world and how often I taken my education for granted. I am lucky enough to have grown up in a part of the world, though not that far from these young women, where education was automatic and allowed. I often do not appreciate that had I been born in a different time, or in a different place this education that allows me to freely share my ideas and learn and grow would not have been possible.
It has been a challenge keeping up with news about the abduction, however let's continue to raise awareness for the return of the Chibok girls; their lives are as precious as any other person in this world. Let's not take for granted that being able to freely learn is a privilege.